Much of our research involving the group now at the University of Edinburgh relating to superhydrophobicity has been included in the sections on Superhydrophobic surfaces and Uses of superhydrophobic surfaces. Click on the thumbnails below to go to the relevant pages.
Below you can read about some other work of this group related to superhydrophobic surfaces.
Leidenfrost-directed
Motion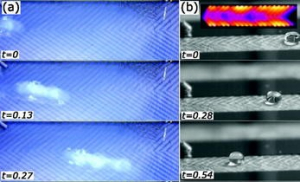 Motion of a droplet can be generated by designing the temperature profile of a substrate. Temperature profiles can also be used to create tracks along which droplets will move.