Superhydrophobic Nanoparticles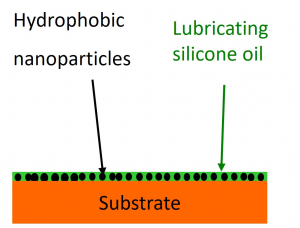 When a layer of hydrophobic nanoparticles is infused with a liquid such as silicone oil, the resultant surface is very slippery because liquid-solid contact is entirely replaced by liquid-lubricant contact. These surfaces are called `Slippery Liquid-Infused Porous Surfaces', known as SLIPS. They are a type of liquid-infused or lubricant-impregnated surface (LIS) that build upon the concept of hemi-wicking.
Publications
Bioinspired self-repairing slippery surfaces with pressure-stable omniphobicity, T.-S. Wong, S.H. Kang, S.K.Y. Tang, E.J. Smythe, B.D. Hatton, A. Grinthal and J. Aizenberg, Nature 477 (2011), 443-447
Slippery pre-suffused surfaces, A. Lafuma and D. Quéré, Europhys. Lett. 96 (2011), 56001
Interfacial Strategies for Smart Slippery Surfaces G. McHale, R. Ledesma-Aguilar and G.G. Wells, J. Bionic Eng. 17 (2020) 633–643. Paper can also be downloaded from here.