Inspired by the surface features observed in nature – in both plants and animals – researchers have made a range of surfaces with manipulate solid/liquid interface properties. Here is a selection of such surfaces, along with the properties they manipulate.
Counter-intuitive example – Liquid Marbles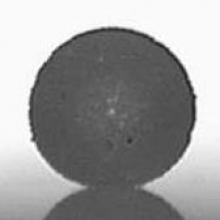 'Hydrophobic' means 'water-fearing. We would expect a water droplet placed on a hydrophobic surface to be repelled from the surface. However, if the surface consists of hydrophobic grains that are loose rather than fixed. the grains can stick to the surface of the water droplet rather than being repelled. This creates a 'liquid marble' that can roll freely on solid (and water) surfaces.